Metal Coating Services Houston
Finding the best metal coating services Houston can be a difficult task when you do not know where to turn to. Did you know that Fusion, Inc. is the leader in metal coating services Houston? Here at Fusion, Inc., we are Houston's premier job shop specializing in the machining, coating, grinding, and finishing of rotating and reciprocating components. We have the ability to restore your equipment and make it work more efficiently and last longer. We diagnose what the problem is with your part.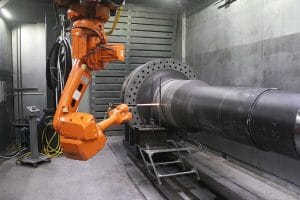 Face it, these part are not cheap to replace and the last thing you want to be doing is to be buying new parts every few years. We are Houston's premier industrial machine shop that has the capabilities to restore your parts and provide them with coatings to last longer. When you work with us, you do not have to worry about parts breaking all the time.
Since our inception in 1959, we have been providing the greater Houston area with a wide variety of industrial coatings. We currently have the capability and knowledge to service HVOF coatings, twin arc coatings, combustion wire coatings, and plasma coatings. If these are services you are looking for give their professionals a call by dialing, 713-691-6547 or visit their website http://www.fusionhouston.com/ to see a complete list of services.
Our team of experts also have the experience to service mud motor rotors, refurbish crankshafts and components. Along with wind turbine main shaft and components and gas steam turbines. We are even manufacturers of taper gauge sets. If you are looking for these capabilities or services, contact Fusion, Inc. today. See for yourself the difference we can make on the lifespan of your equipment.
HVOF Coating Services
Are you someone that is looking for a coating for your metal equipment that will last through any condition? HVOF coating is one of the most durable coatings you can have on equipment. During the HVOF coating process, an oxygen-fuel and powder mixture is fed into a combustion chamber and lit. The expanding gases flow through the nozzle from the combustion chamber. The material is continuously fed into the combustion chamber and exits through the nozzle towards the substrate. This process can produce velocities up to 3900 feet per second. 
The High-Velocity Oxy-Fuel process will produce low porosity, dense coatings that exhibit high bond strengths. Some of these coatings can exceed 12,000 PSI. This type of coating will produce low oxides and extremely fine as-sprayed finishes. The HVOF coatings have low residual internal stress. The HVOF application can be put directly on to a thickness that has will not conflict with dense thermal coatings. 

As a result, this coating can survive the harshest of corrosion applications. These applications can increase component service life. The coating is chemically uniform to finish onto very smooth surface profiles. These coatings are common for dimensional restoration repair and corrosion control coatings. Many OEM's (original equipment manufacturer) will coat components to further service life.
If you are looking for a company to deliver the highest quality of HVOF coating, contact us by dialing, 713-691-6547. There are a lot of factors to consider the determining what the correct coating is to put on a piece of equipment. But our expert team has the experience and expertise to help you find the right solution. You can also visit our website http://www.fusionhouston.com/ to see a full list of services.
Metal Coatings
Did you know that our high energy thermal spray process will produce strong coatings of metals? These metals will give an excellent performance in corrosive environments. These types of coatings are an important part of surface engineering. This allows us to salvage and improve components for your company. Machinery and process equipment will last longer when you call on Fusion, Inc. to meet your demands. We are very careful not to damage the environment with our high-tech availability.
If you are looking the best metal coating company, contact Fusion, Inc. today by calling 713-691-6547. Our expert team will be able to walk you through the process of HVOF coating so you understand all the benefits it has to offer your equipment. You can also visit our website http://www.fusionhouston.com/ to see all the coating capabilities we have for different equipment.
Best Metal Coating Company Houston
Due to our vast experience in the field of metal coatings, we are highly capable of assisting you in any phase of metal coatings. We provide the metal coating services Houston that you have been searching for. If you want to know how best to utilize metal coatings for your business and equipment, contact Fusion, Inc. today by calling 713-691-6547. With over 100+ combined years of experience, you will want our team of professionals to handle all your coating needs.
Fun Facts About Houston Texas
Houston is the No. 1 city for job creation in the U.S.

It's one of the centers of America's lucrative oil and gas industry.

Houston is called Space City for a reason. It's home of the NASA Astronaut Corps.

The city of Houston has more parks than any other top-10 metropolitan area.

Houston recently passed New York to become the most ethnically and racially diverse city in the U.S.